I know I'm a day late in announcing my "Great" news,
but better late than never!
Yesterday morning as I was checking my messages etc.
(my normal routine before I leave for work)
I found the most exciting news ever!
I have been chosen to be on a design team as a guest
for August & September for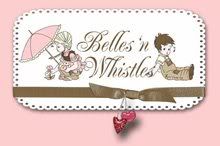 If you only knew how excited I was!
My Congrats to the other two that were chosen.
Lilian
and
Krümel
I'm looking forward to getting to know you,
and working together as well. =)
I found
Roses on Paper
about a year ago
and have been shopping there ever since.
I was excited when Summer announced her new design team
and they started a challenge blog.
Lucky me, I've been participating in every by-weekly challenge
that they've been having on
their Challenge Blog.
I just LOVE Summer, and her Roses on Paper Store.
Recently she has opened another online store
a branch off of Roses on Paper, only this one
is called
"Belles n Whistles"
where her artist is the
Fabulous Elizabeth Belle
.
I just KNOW that these stamps will be just as adorable
as Elizabeths others.
To make a long story short.
I have the WONDERFUL opportunity to be part
of the "Belles n Whistles" design team for a two month term.
This is just so exciting!
I just want to say thank you to Summer,
and the Roses On Paper Design Team
(Lim, Anki, Iris, Jodi, Peta, Rosette, & Susan)
You guys are the best, thanks so much for choosing me!
I can't wait to start working with you.