Hello again... Wow imagine that, 2 posts for me already this week.... AND... I have another one ready for Friday's Blog Hop! I hope you'll join
The Digi Bells
for the blog hop on Friday.
Elisabeth Bell's Digi release for July is absolutely adorable, you won't want to miss it.
The challenge theme is called "Punched and Homemade" meaning we are to create handmade flowers, from punches etc. and not use any at all from a store.
So this is what I've made, using
Elphine House Australia's
-
"Carrie Princess Three Wheeling"
I've colored this little princess on her trike, with Copic's mostly, with the addition of 3 Prisma Colored Pencils. (Colors are listed below if interested).
My flowers are punched from basic white cardstock. My center flower was punched from an EKSuccess Retro Flower Punch. For the smaller side flowers, I've used EKSuccess Gardinia punch. My tutorial can be
found here.
Below is another angle of the flowers.
*
I have a little surprise for you today ......
I am giving away this adorable little guy to someone!!!
Here is how it works....
Be sure to join the Elphine House challenge USING an Elisabeth Bell Stamp...
then leave me a comment here, letting me know you've joined and linked your creation on the challenge blog.
I will let Random.org draw a winner and it will be announced at the start of the next Elphine House Challenge. I will ship anywhere, so why not give it a try?... you never know, you might win the challenge prize, as well as this one... Now wouldn't that be lucky?
Challenges I've decided to enter:
That is all from me for today.... Thanks so much for stopping by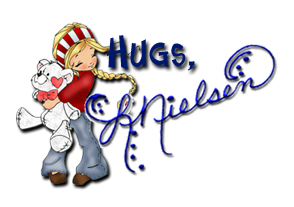 Copic and Prisma Colors Used:
Skin and Hair:
E00, YR0000, Y21.. and Prisma Color 943-Burnt Ochre
Clothing:
BG0000, BG11, BG15, BG32...and Prisma Color 992-Light Aqua
E31, E41, E55... and Prisma Color 941-Light Umber
Tricycle:
R29, R35, R59, C1, C5, C7, C9